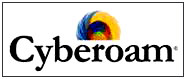 Cyberoam's
identity-based security provides integrated Security Appliances (patent pending) purpose-built for
comprehensive network protection and high performance needs of small, medium and large enterprises.
Cyberoam's Check Mark Level 5 certified, ICSA firewall certified identity-based Internet Security Appliances offer protection against external as well as internal threats.
Cyberoam, with its unique identity-based security solution capabilities, has special identity controls integrated into its solution. These controls clearly identify both the IP address of the machine AND the actual user. Thus Cyberoam delivers total control on the insider threat by pinpointing the actual threat source thus fulfilling the enterprise control requirements.
Cyberoam's unique identity-based Internet Security Appliances solve today's need to control individual user behavior to ensure comprehensive threat management. Functioning with Layer 8 technology, Cyberoam delivers complete visibility into "Who is doing What" on your network and allows you to create policies at the user level based on work profiles.